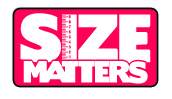 Experience new levels of titillation! With this Size Matters Vaginal Pump kit, both you and your partner will enjoy the erotic sensations and inviting appearance of your newly pumped-up pussy. Fit the small, ergonomic cylinder over your vagina and you or your lover can squeeze the medicine-ball style hand pump to create suction against your most intimate areas. Sensitivity is heightened as your labia enlarges for the ultimate in lovemaking pleasure! The quick-release valve and no-kink hose make this easy to use for beginners and experts alike. Furthermore, the airlock release system holds pressure even when you remove the pump and tube from the cylinder.

Measurement: Cup is 3.85 inches in length, 2.8 inches in width, 2 inches in depth. Hose is 10.25 inches in length

Material: Polycarbonate, PVC, rubber

Color: Pink

Note: Includes cylinder and pump
📦 At The Dildo Hub, we use all non-descript boxes, packages, and padded envelopes to ship your orders. All of our orders are shipped 100% discreetly. Discreet billing on Credit Card statements, PayPal or Apple Pay will be shown as Booty Republic Ltd.

🚚 The Dildo Hub offers free, 100% discreet ground shipping on all orders over $139. For orders below $139, we charge a flat shipping rate of $7.49.

👐 Our standard order processing time is 1-4 business days for all items that are in stock. Processing times are not calculated into the delivery times.

📈 97% of our inventory is usually delivered within 3-5 business days once shipped.

❗ There are nearly 150 item exceptions from this timeframe and you can find them clearly stated on our product descriptions - items made-to-order by international creators and the customizable hand-made fantasy dildos of Bad Wolf® have their respective delivery timeframes.

🇺🇸 For the time being, our delivery operations are limited only to the United States of America, including the state of Alaska, Hawaii, and APO/FPO/DPO addresses.

Please note that orders shipping to Alaska, Hawaii, and APO/FPO/DPO addresses may require more time for delivery.
For more info, please refer to our full Shipping and Refund Policies